Logic & Ryan Tedder Took Their Bromance To 2018 iHeartRadio Music Festival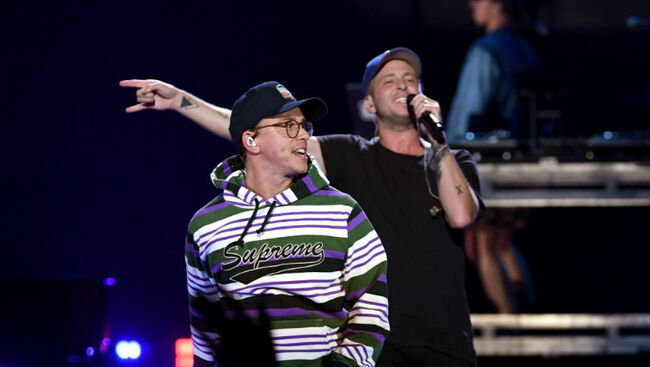 You can always count on Logic to offer up positive energy and his set at the 2018 iHeartRadio Music Festival on Saturday (September 23) did just that with recent collaborator Ryan Tedder.
Following a powerful performance from Imagine Dragons, the rapper took the stage to close out Night 2 of our star-studded spectacle and part of the set centered around his love for the OneRepublic frontman. "I want you guys to please give a round of applause for my buddy Ryan Tedder," he told the audience mid-set after performing "44 More," "Everybody" and "1-800-273-8255." In just a simple hat and t-shirt, Tedder took to a stationary black piano as Logic delivered the verses to the recently released track, which focuses on how his dreams have come to life and how he no longer has to look ahead because he has everything he ever wanted.
"And maybe one day I'll be wiser'/ Cause maybe one day I'll be further from here/ Put all of my faith in tomorrow/ Dark days keep me up all night/ Only thing I know, it's gonna be—Alright," Tedder belted during the hook. But the equal admiration for each other didn't stop there as the pair hugged it out at the end of the number and Logic told the crowd that Tedder was the most talented person he's ever worked with.
After the impromptu collab, Logic went on to "Everybody Dies" and another one of his all-star collaborations, "Everyday," his team-up with Marshmello. If you missed any of this year's iHeartRadio Music Festival, we've got you covered! Fans can re-live all of the best moments from the unforgettable weekend by tuning into a two-night television special, exclusively on The CW, on October 7th and October 8th from 8 p.m. to 10 p.m. ET/PT.