West Point Grad Who Wore 'Communism Will Win' Cap Discharged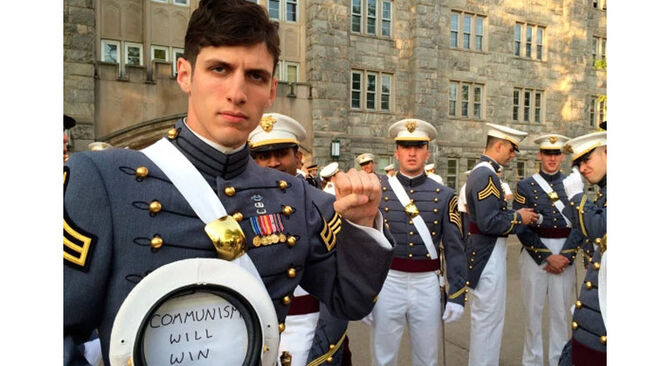 The West Point graduate who posed for a photo in his uniform while he was holding a hat with the words 'Communism Will Win' written inside and making a fist has been discharged from the Army. Spenser Rapone tendered his resignation after receiving a warning for "conduct unbecoming of an officer." Officials at Fort Drum's 10th Mountain Division accepted Rapone's resignation and he received an other-than-honorable discharge.
After being discharged, Rapone shared a photo on Twitter of himself giving the middle finger to the sign at the entrance of Fort Drum with the caption: "One final salute #FTA."
After leaving the Army, Rapone spoke with media outlets and explained that he considers himself a "revolutionary socialist" and called on "all soldiers who have a conscience to lay down their arms and join me and so many others who are willing to stop serving the agents of imperialism and join us in a revolutionary movement."
Florida Senator Marco Rubio, who harshly criticized Rapone last year when the photos went viral, issued a statement applauding his discharge from the Army.
"While in uniform, Spenser Rapone advocated for communism and political violence, and expressed support and sympathy for enemies of the United States. I'm glad to see that they have given him an 'other-than-honorable' discharge."
Photo: Twitter