Fan vs. Artist Trivia: Shawn Mendes Faces Off Against His Biggest Fan
Shawn Mendes has A LOT of fans. We're talking about millions of devoted followers. Millions upon millions of people who listen to his music and go to see him on every tour. Well, many of them came out to this year's iHeartRadio Music Festival in Las Vegas in September to see him perform, and one of his biggest fans even got to meet him backstage and face off against the 20-year-old in a game of trivia ... about himself!
A lot has happened for Shawn this year. He released his self-titled third full-length studio album, on which he worked with stars like OneRepublic'sRyan Tedder,Julia Michaels,John Mayer,Ed Sheeran,Snow Patrol's Johnny McDaid, andKhalid. He also teamed up with Zedd on a remix of the album's newest single, "Lost In Japan," which he just performed during this year's Victoria's Secret Fashion Show.
During his performance at this year's iHeartRadio Music Festival, Shawn treated the crowd to performances of some of his biggest hits including "In My Blood," "Lost in Japan," and "Stitches." 
Meanwhile, backstage, he hung out with one of his biggest fans, Alessia, who runs a Shawn Mendes fan account on Twitter, and has previously met the singer before. Alessia and Shawn played a game of trivia all about the Canada native, and had to answer questions about Shawn's music, previous concerts, and even the identity of his alter ego.
So, does Shawn Mendes know himself better than Alessia knows him? Watch the video above to find out, and check out some highlights below. 
First of all, Shawn already had a feeling he was going to lose.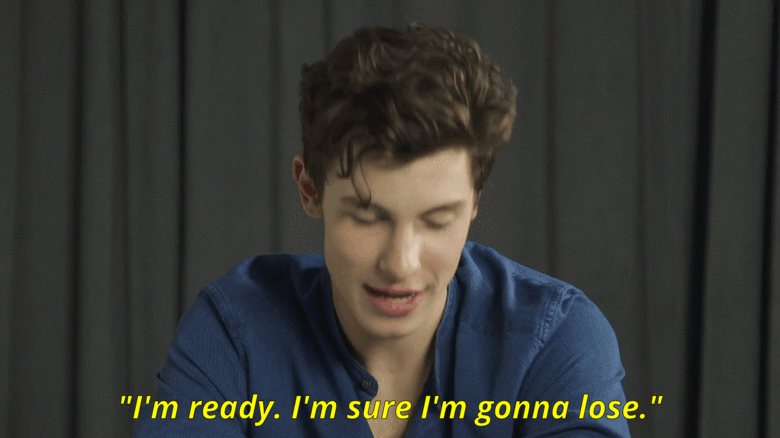 And Alessia already knew Shawn doesn't have the greatest memory.It's OK, Shawn.
He knows this to be extremely true.In fact, in agreement, he said, "I do forget everything. I don't know why. I actually just go on Twitter and look at what they're saying to remember what's going on."
But the game actually started off neck and neck!The score was 1 to 1 after answering correctly that Shawn's alter ego is none other than the sunglasses-wearing Benito.
Alessia eventually pulled ahead at the end of the Tablet Round. But, Shawn was determined to recover.
Then, it was time for the Lightening Round. But, despite Shawn's best efforts, Alessia won 6 to 4.